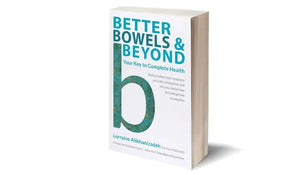 Product Description
BBB-PB
Your Key To Better Health
Learn how bowel health can be linked to so many seemingly unconnected diseases, and how the SCD protocol can help to heal the bowel.
Understand why bowel health is the key to all health
Learn what connects IBD, depression, MS, Diabetes, Heart disease, obesity and more
Discover what you can do for yourself to find health and vitality
Lorraine Alikhanizadeh  is the co founder of Comfizz, authour of 'Better Bowels & Beyond' and a mum on a mission to help her son with Crohns disease  find ways to live a healthy life. In this book she shares what she discovered about the absolute importance of a balanced microbiome, to not just bowel health but overall health. She says "This body is the only vehicle we get to travel through life in, with MOTs, services and repairs along the way but no option for a trade in, we may as well become better informed on how to maintain that precious vehicle/body  to serve us well into old age" Hopefully that's what this bok will help you do.
Size Guide